Visiting Workshop|(re)DISCOVER YOKOHAMA Season02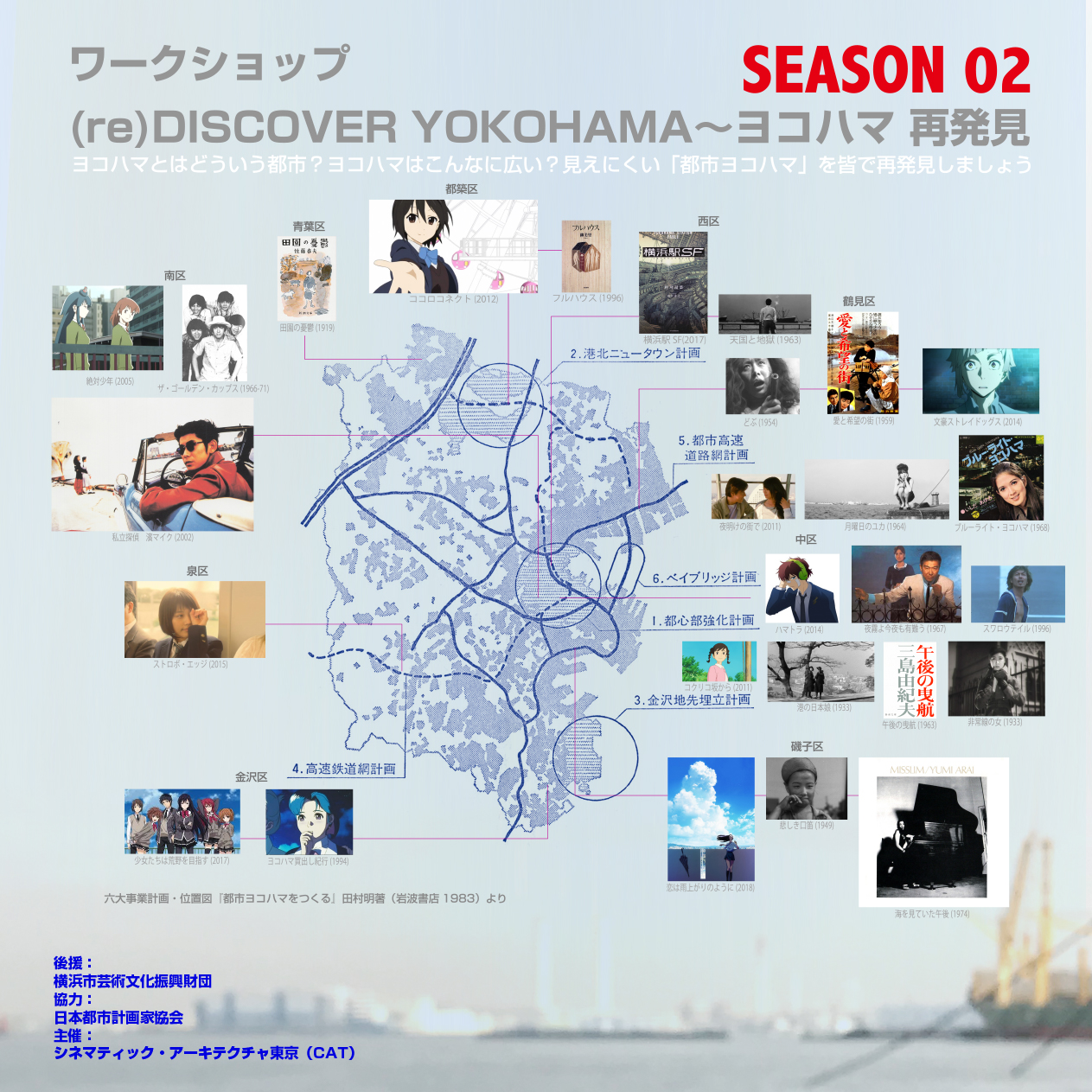 Date: Pre sessions 14 January, 18 February, 18 March 2018 Workshop 22 April-9 December (10 times)
Venue: Nakamura District Centre of Yokohama City, Yokohama Port Opening Memorial Hall, Noge District Centre of Yokohama City, Okurayama Memorial Hall ( Yokohama-shi, Kanagawa prefecture, Japan )
"But until when am I coming to the hill?", Beniko just recalled herself.
'The Card Playing'(1966) Masaaki Tachihara, novelist
"Yokohama, City of Light, Raining… Just like old films"
Beijing Duck (1975) Haruomi Hosono, musician
The second season's workshop program still aimed to make visible the images of the city of Yokohama and study how the media represented them such as in films, animes, literature and mangas overlaying the Six Spine Urban Projects in Yokohama though it is hard to see them at a glance, having interdisciplinary interaction and sharing sensibility.
The two-day program in 2017 held the Yokohama City University throughout the year on a monthly basis this year as the visitors' attended from Yokohama requested. In season 02 each one has found the unique themes and characters like 'many hills', and 'special colours' of Yokohama and was asked to develop toward a further stage, educating ourselves on architecture and urban design by referring to books such as 'The Urban Design in Yokohama as the Characteristic City' by Shunsuke Iwasaki who worked for urban planning bureau of Yokohama City as urban designer. Also, the theories of formative culture, architecture, urbanism, art and film are added to study the cross between media and the city.
In addition to studies on the media relating Yokohama, we asked a legend of urban planning to a guided tour called B-Yokohama tour that took us around the back and dark side of Yokohama along Ohoka Gawa River that is totally different from the brilliant Bay Area including Minato Mirai to compare media with reality, Chinatown and Yamashita-koen Park. For the approach to media for instance we read the novel 'The Card Playing'to imagine how the Bay Area looked like in the mid-1960s and we compared with a song, The Hill We Look Down the Port (1933) three different versions sung in different times (the latest version is actually sung in 2018.).
We attended Yokohama throughout the year and found many. The characteristic point we recognised this year was there are many science fiction and fantasy dramas in the near future. We will push on to more challenging ideas in the following workshop taking the media relating to Yokohama as a precious cultural reference and resource by using them to resemble virtual architecture, landscape, urban space and object sites. It was a very creative year we could broaden our perspective and interaction with many people in Yokohama by keeping sober works of thinking and expressing in the same place as we visited to do research throughout the year.
Expressions by Tomoko Shoji, Masao Yonehara, Hiroshi Yanagihara, Ayako Shikita, Masumi Nakashima, Takashi Kume, Namio Ohmichi and others
Management by Kyoko Sugano
Produced by Keiichi OgataSpecial thanks to Yoshinori Date, Masaaki Kurihara, Hiro Ohta, Keeda Oikawa, Yoichiro Ishikawa(ROUROU), Yokohama LRT Society
Surpported by Yokohama Arts Foundation, Japan Society of Urban and Regional Planners